| | |
| --- | --- |
| | Information on paddling in Canada's Yukon Territory. |

Don't see the navigation bar to the left? Stuck in someone else's frame?
Then click here to load the whole page.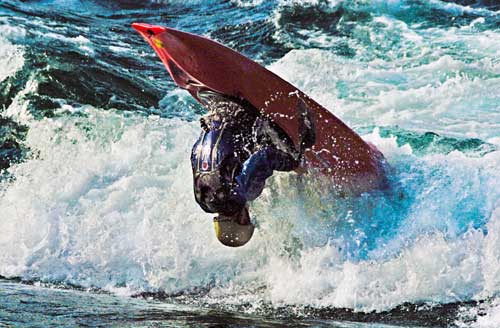 Kevin Daffe performs a front loop at the Whitewater Rodeo in Riverdale on Wednesday.
Photo (c) Yukon News, photo by Tom Patrick.
| | |
| --- | --- |
| THE QUEST BEGINS - Yukon River Quest team Deisleen Shaawat is seen by Shipyards Park early this afternoon. Hundreds of canoes, kayaks and voyageur canoes started the race in Rotary Peace Park. | 90 teams are competing in the 2008 Yukon River Quest. For additional information on this race, visit www.yukonriverquest.com |



Over 200 racers comprising ten voyageur teams and 69 solo and tandem canoe and kayak teams for the start of the 2007 Yukon River Quest.

For additional information on this race, visit www.yukonriverquest.com
December 17th, 2005 - mid winter kayaking on the Yukon River? Yes!
Click here for pics!

Recommended Reading:


Paddling the Yukon River and its Tributaries and
The Dolphin's Tooth, A Decade in Search of Adventure
remember, books make GREAT presents!!

Fall Kayak Polo info here!

Photo by: VINCE FEDOROFF
Whitehorse Star

Joel Brennan, 11, competes in the Whitewater Rodeo put on by the Yukon Canoe and Kayak Club. A downstream race, freestyle competition, and raft race entertained a large crowd by the Rotary Centennial Bridge.
Our 2004 trip down the Colorado River (the Grand Canyon) pictures now online!
The Yukon Brewing Company has two banners featuring pictures by Lisa Turner!
Rancho Esmeralda taken over Feb 28th'03 by 100 Zapatista warriors. Read the Press Release
Canadian and French kayakers held captive by Zapatistas in Chiapas, Mexico. Read more here.



You can also read about it in this issue of Paddler, page 36
Yukon Canoe and Kayak Club Winter 2002 Newsletter available in Acrobat (PDF format 560k)...did you know that the Canadian Coast Guard is now regulating canoe and kayak equipment? Read the article in this newsletter to find out what you can do about it!
---
---
Kayak Yukon design and content Copyright 1997-2008 © Derrick A. Law except where noted.
Please read the terms of use for this site.