The Tutshi River (pronounced TOO-shy) flows from lakes of the 'Skagway Summit', along the highway from Whitehorse to Skagway Alaska. The river is actually in British Columbia, due the the strange meandering of the road along the 60th parallel border.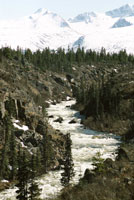 click for full size
Typically one of the first rivers to open in the spring, this river is a favourite of the local intermediate+ boaters.
Video of a raft running the Nozzle (2MB) not a typical line through....
Video of a raft running 'The waterfall" (5.5MB)...
Video where catching the eddy would have been better (4.5MB)....
You may need the latest version of Microsoft's Windows Media Player to view these videos.
| | | |
| --- | --- | --- |
| | Kayak Yukon design and content © Derrick A. Law (dlaw@kayak.yk.ca) except where noted. | |