For two weeks in January 2003 a few friends (okay, 12 of us) met up in remote Chiapas, Mexico to paddle one of the best Multi-Day expert rivers in the world - the Jataté. We also spent a couple days on the picturesque and unique river Agua Azul.
Our trip did not go quite as expected, as political issues between the Chiapas based Zapatistas and landowners along with government inaction, brought mayhem to the region mere days before we were to set off.
Rancho Esmeralda taken over Feb 28th by 150 Zapatista warriors. Read the Press Release

Detailed article on the Peace Corp's website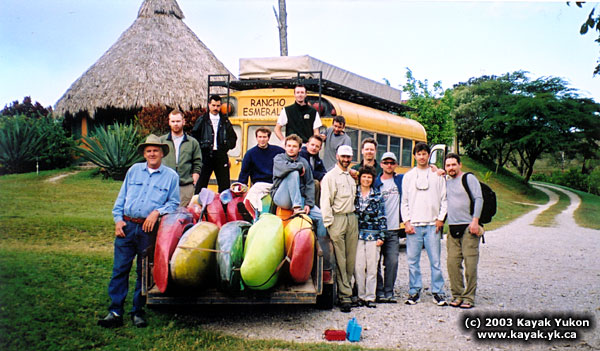 Canadian and French kayakers headed for the Jataté River on January 22nd, 2003
at the Rancho Esmeralda (Glen, the owner, on the left)
Andrew Walther (pictured third from right, above) has pulled together pictures and some great narratives at his page: http://www.apwengineering.com/Mexico%202003/index.htm
For external information (until I get this page finished off) please see the following articles:
From the www.washingtonpost.com
http://www.upi.com/view.cfm?StoryID=20030206-015758-8591r
http://www.paddlermagazine.com/news/?ACT=READ&number=106
Also this trip was featured in the May/June issue of Paddler Magazine on page 29: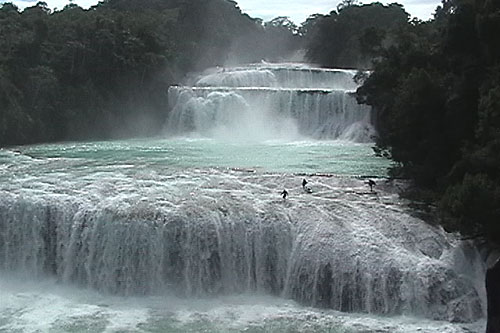 Scouting a line for the last waterfall of the Agua Azul as it joins the Shumla River.
Kayak Yukon design and content Copyright 1997-2006 © Derrick A. Law except where noted.
Please read the terms of use for this site.