BOOKS!
Pick up a copy of Bruce Kirkby's latest book:
Book Description
From the bestselling author of Sand Dance.

Stuck in an engineer's cubicle, dutifully beginning the responsible adult life he was raised to undertake, Kirkby is tormented by doubts and boredom. In a fit of rebellion, he quits his job to bicycle the Karakoram Highway in northern Pakistan. He is twenty-two and absolutely clueless. Miraculously, hilariously, he survives — and discovers his life's passion.

Over the next fifteen years, Kirkby navigates an evermore uncertain and uncommon path, honing his skills on some of the most challenging expeditions the world has to offer. Whether it's gun fights and crocodile attacks while running Africa's Blue Nile Gorge, the rescue of a fallen sherpa on Mount Everest, evading capture in Myanmar's forbidden tropical paradise, or learning to embrace the wilderness on the Tatshenshini River of Canada's Arctic, Kirkby shares with the reader the excitement, doubts, insights, and even the uncomfortable self-knowledge that a life lived on the edge brings.
---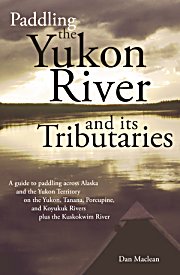 Paddling the Yukon and its Tributaries covers more than 4,000 miles of watery trail. The Yukon, Tanana, Porcupine, Koyukuk, and Kuskokwim Rivers are the five longest rivers in Alaska, extending into the Yukon Territory. This water flows freely, almost entirely undammed. Salmon surge against current. Moose, bears, and wolves wander the banks. Birds swarm in spectacular density. Roads rarely cross. Many residents live a subsistence lifestyle. No permits are required to be here. These channels are a natural path through the last large wilderness in North America.
---
Order a copy of Colin Angus' latest book, Lost in Mongolia or his first, Amazon Extreme.
---
Pick up a copy of Bruce Kirkby's bestselling book



at Amazon.ca
---
Two Dog River - A book by Richard Day

"I read this book last winter, it made me yearn for spring flood. A really fun read!" - Derrick Law, Kayak Yukon.

Richard Day's new book, Mad Dog Mountain

Editorial Review:
Mad Dog Mountain follows the epic river tale of Two Dog River in a series. The passions of outdoor beauty and adventure beckon and lead onward, this time in the wild snows on telemark skis. Mad Dog Mountain captures the essence of backcountry skiing. Through deep powder and into breathtaking mountain mysticism, the reader becomes lost and then found as body and soul, spirit and being enter into a tale which never loosens it grip upon the imagination. Mad Dog Mountain is at once a love story, both human and Divine, an adventure and a tale of courage and surrender. Mad Dog Mountain is the torch that burns in the heart of everyone who opens to the Creator and His awesome creation. Mad Dog Mountain is both the horizon and a coming home.

About the Author:
Richard Day is a 30 year veteran of the outdoors. He has been active in the pursuits of backpacking, rock climbing, mountaineering, whitewater kayaking and backcountry telemark skiing. His doctorate in psychology and interest in men's issues and theology have led Richard to deeply penetrate the essence of the wild outdoors - especially the heart and soul of backcountry telemark skiing and where Truth is sought. His previous novel, Two Dog River, is considered a cult classic of whitewater fiction and men's literature. Richard Day's unusual talent as a writer continues to delight and inspire.
Review of the video LIQUID OFF THE THRONE OF SHIVA - paddling the upper Karnali!
Check out Ken Madsen's books
"Paddling in the Yukon: A Guide to the Rivers" or
"Wild Rivers, Wild Lands"
Never Turn Back: The Life of Whitewater Pioneer Walt Blackadar
Doug Ammons, American Whitewater
"captures a surprising tenderness and depth to Blackadar. I guarantee you'll come away from reading this book with a lot of smiles and laughter and a contagious feeling that life is worth living to the fullest."
Eugene Buchanan, Editor, Paddler Magazine
"a book that reads more like a novel than a biography."
---
To get your gloves on Ken Whiting's (current World Rodeo Champion) The Playboaters Handbook, send him an email at

[email protected]
Or better yet:
Send a Cheque to:
The Heliconia Press Inc.
PO Box 200
Clayton, Ontario
Canada, K0A 1P0
for Canadian customers CDN$19.95 plus $2.75 for shipping.
for non Canadian customers US$14.95 plus US$2.75 shipping to USA ( US$5.00 for shipping outside North America)
You can also check out their own website at: http://www.kayakinternational.com/playboat/
Book Description
The Playboater's Handbook is a compilation of the freestyle kayaking techniques that Ken Whiting has spent the past 10 years perfecting. 160 pages of photos and illustrations accompany a detailed breakdown of each move, providing paddlers of all skill levels with the tools necessary to reach their playboating goals. The Handbook covers all freestyle skills from front surfing and pirouettes to cartwheels and airwheels. Also included are feature articles by Ken Whiting and kayak design guru Bob McDonough on how to choose the right playboat and paddle.
About the Author
Since Ken Whiting began kayaking at the age of 14, his paddling has taken him to all corners of North America as well as throughout Europe, Japan, Australia, New Zealand, Honduras and Guatemala. Through these travels he managed a number of first descents, and has been the featured paddler in a number of videos ranging from 'Kayaks and Coconuts' (a Central American paddling adventure), to 'Walls of Freedom' and 'Breathe' (extreme skiing and kayaking films). In 1994 Ken began frequenting, and winning whitewater rodeos. His ultimate success took place in the fall of 1997 when he became the World Whitewater Rodeo Kayaking Champion.
| | | |
| --- | --- | --- |
| | Kayak Yukon design and content © 1996-2002 Derrick A. Law except where noted. | |