Yukon Canoe & Kayak Club 2002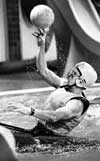 click for larger picture
Photo by Jillian Rogers (c) Yukon News.

2002 Fall Kayak-Polo session
It's back to fall routines and that includes a new kayak-polo session.
When: Friday evenings starting on October the 18th
Where: "NEW" Aquatic Center
Time: 8:00 till 9:30 pm
Fee: 60.00$ club members
80.00$ non-club members (20.00$ membership till April 2003 +60.00$ polo-session
10.00$ Member drop-ins
30.00$ Non-member drop-ins (20.00$ membership till April 2003 + drop-in fee)
Rules: Registration will be happening from 7pm on October 18th at the new pool.
-It's a NO PAY/NO PLAY policy year. No exceptions! Fee must be paid on or before October 18th.
Your payment can be dropped off at Pearson Dental Clinic, 409 Cook St. (attention Muguette), or paid on registration night.
No part of your 60.00$ will be transferable to other players. If you miss and find a substitute that's great…however that player will be considered as a drop-in and must pay accordingly.
Registration for drop-ins will close at 8pm sharp every Friday.
All players must sign a waiver prior to session.
Wear: For club Insurance purposes, life jackets and helmets must be worn at all time during play. Cages on helmets so far are optional but advisable.
For beginners or anyone else not wanting to be pushed, it is recommended to put duct tape on your helmet. P.S. if you wear duct tape, you are not allowed to push other players…FAIR IS FAIR !!
Pre-Registration: For pre-registration send your name to" Muguette"
Indicate if you are a beginner, intermediate or experienced player.
Ingrid Wilcox & Muguette Laflamme
---
Sept. 9, 2002 - pictures from this last summer's Youth Program
May 9th, 2002
The Yukon Canoe and Kayak Club's AGM was last night. There was much appreciation for the work of all the board members and other volunteers who helped last year be such a great year for the club. And we hope for another great year ahead.
Here is the list of the new board of the club for 2002/03:
President: Violet van Hees

VP, Kayaking: shared by Eyvi Smith and Yannick Bedard

VP, Ocean Kayaking: Gary Morgan

VP, Canoeing: vacant

VP, Youth Programs: vacant

Secretary: Muguette Laflamme

Communications: Theresa Landman

Director at Large: Karine Belanger
Please note that the VP, Canoeing is still vacant. There have been comments over the past few years that "we all" ought to remember that this is the Yukon CANOE and Kayaking Club. In light of that, if there is anyone who would like to take on the role of VP, Canoeing and thus take on the role of focusing on promoting canoeing activities etc., that would be grand.
The Club ends up doing and focusing on what is of interest of individual members to help make happen, so this is your chance! Please let anyone on the Board know if this role is of interest to you - thanks!
About the VP, Youth Programs position: it was discussed last night that the club is already doing a bunch of stuff with and for youth (eg. Eyvi's rafting and paddling training program, Vern's kids paddling nights and pool sessions), so the need for a "Youth Programs program development" board person is not as clear as it was when this board structure was set up. So, if anyone would like to be another general "director at large" on the board, the Board would have the choice to fill this vacant VP position with such an interested individual - so please let any of the Board members know if you are wanting to participate in the Board - we will certainly find a way to put your skills and interests to good use!
As the new Prez, I will be aiming to keep this e-mail distribution list as current and accurate as possible because it is by far the fastest and easiest way to transmit info to most club members (although I realize that some members don't have e-mail). If you have friends who are members and who don't have e-mail, please be sure to pass the info you get out to those other people - thanks! (If club info gets around as fast as juicy rumours do, this informal process should work reasonably well.) And please keep me current on your e-mail addresses. Note I am not infrequently also getting notes kicked back from mailboxes that are too full to accept any new notes...
We will send out the Minutes from the AGM as soon as they are typed up. I look forward to a great year ahead for the club and to working with you all to make good things happen! cheers - Violet
---