The 2003 Yukon River Quest will started in Whitehorse on June 25th at 12:15pm sharp!
Please read the first newsletter from the new governing body for the Yukon River Quest.

Whitehorse Star Photo by VINCE FEDOROFF

The canoe class team of Regina's Fiona and Mike Vincent, front, were the first team on the river following the start of the fifth-annual Yukon River Quest today. Thirty-three teams, including eight from the Yukon, are entered in this year's 740-kilometre endurance race to Dawson City. At back right is Toronto kayaker Dave Zietsma.


Star Photo by JEFF KORENKO

Local solo kayaker Ingrid Wilcox receives some assistance getting out of her boat after arriving at the Carmacks checkpoint during the fifth-annual Yukon River Quest last evening. Wilcox paddled into the mandatory eight-hour rest stop just before 6 p.m., meaning she had spent the previous 30 hours on the Yukon River.
River Questers off and paddling
by JEFF KORENKO
Courtesy the Whitehorse Star, originally published June 25th, 2003

Emotions among the competitors at the Main Street starting line ranged from nervousness to excited anticipation as the fifth-annual Yukon River Quest got under way with its usual Le Mans-style start today.
When the pistol went off promptly at 12:15 p.m., most of the 33 teams taking part in the 740-kilometre race down the Yukon River to Dawson City sprinted toward, then down the riverbank to behind the Yukon Government Building in an attempt to hit the water first.
Doing so was the canoe class pairing of Mike and Fiona Vincent, who are from Regina, Sask.
As they made their way past the viewing area at Main Street and First Avenue, they were followed by solo kayaker Dave Zietsma from Toronto and the canoe of Whitehorse's Tim Hodgson and Toronto's Paul Pageau.
The 33 teams — three less than last year's record number of 36 — are comprised of a total of 69 paddlers.
This year's race has also attracted the strongest international field in its five-year history, as competitors have come from as far away as the Guernsey Channel Islands, the United Kingdom, Germany, Scotland, Guam, and Austria.
There are also teams hailing from the provinces of B.C., Alberta, Saskatchewan, Ontario and Manitoba; the Yukon and Northwest Territories; and the U.S. states of California, Texas, Alaska and Maine.
Eighteen of the 69 participants are from the Yukon. Those 18 make up eight boats that have at least one local rower.
A couple of local individuals — Rick Brown and Hodgson — have teamed with partners who hail from outside the territory, in the canoe class.
The categorical breakdown of this year's teams is as follows:
18 duos have registered in the canoe class
nine paddlers are competing as solo kayakers
four tandem kayak entries.
There are also two eight-person squads stroking large voyageur canoes this time around.
One is the Paddlers Abreast contingent consisting of local breast cancer survivors Dawn Olli, Linda Rapp, Claire Desmarais, Faye Swerhun, Lynn Rice-Rideout, Janet Moore, Robyn Findlater and Michelle Genest.
This is the third consecutive year that a Paddlers Abreast team has entered the Yukon River Quest.
Some of the race goals the team listed on the Yukon River Quest Web site include "to regain full use of our upper bodies; to meet a physical and mental challenge; to prove that we can undertake strenuous exercise without developing lymphedema; to learn to trust our new bodies and to share a positive experience with other breast cancer survivors."
Team captain Rapp reaffirmed those goals in a brief interview just prior to this afternoon's start.
She noted that the five members of the squad returning for either their second or third River Quest have learned a lot from previous events, which should make things that much easier this time.
Making their first appearance in the River Quest are Rice-Rideout, Genest and Findlater.
"We practised paddling in the pool during the winter and were out on the river as soon as the ice was off," Rapp said.
"I think we've learned a lot about what we need to eat, when to sleep and the weather conditions, so this year should be a little easier for us.
The eight women will be paddling an RCMP-donated, 9.3-metre Tlingit war canoe.
The other voyageur canoe team hails from Maine and consists of Bruce Cough, Ron Muir, Ralph Robertson, David Blaney, Jen O'Donnell, Randy Walls, Neil Phillips and Phil Cole.
They have coined themselves Maine Yahoos to the Yukon.
Like most of the teams that enter this endurance paddling event, they are in it for the fun.
Other local paddlers include the canoe class duos of Louis Pelletier and Francis Roy; William Kleedehn and Catherine Pinard; and Tony Arcand and Kevin Mellis.
The local solo kayakers entered in this year's race are event veterans Ingrid Wilcox and Linda Bourassa.
The fifth-annual Yukon River Quest has built a prize purse of $15,525.
Race rules stipulate that a category must have a minimum of three entries before prize money can be awarded in that category.
The top seven finishers in each of the other three categories are eligible to win money, with additional payouts going to the top two men's, women's and mixed teams in the canoe and tandem kayak classes and the first two men and women in the solo kayak category.
Steve VanVlaenderen, from Selkirk, Man., is competing in a solo kayak to raise funds and awareness for arthritis research, as the 53-year-old has dealt with the ailment for more than 30 years.
He has competed in more than 60 spring and marathon kayak events.
"I'm a little nervous, for sure," VanVlaenderen offered a few minutes before the start.
"I'm as prepared as I'm gonna be. I know I have to pace myself through the whole race and I just hope to finish."
Including his participation in the River Quest, VanVlaenderen hopes to paddle more than 3,000 kms by the end of the 2003 season by also taking part in a number of long distance races scheduled throughout western Canada, northern Ontario and the U.S.
He added today that he would like his efforts to bring in $100,000 for arthritis research this year.
"Having arthritis means a lot of discipline is required to overcome it," VanVlaenderen surmised. "Which is similar to what it takes to compete in an event such as this, so there is a bit of a correlation there.
"I just want to let people with arthritis know that they don't have to give into it and that living a more active, healthy lifestyle helps."
A new wrinkle to this year's Yukon River Quest is that the mandatory stopover in Minto has been eliminated.
In previous years, there has been a mandatory two-hour stop in Carmacks and a six-hour rest at the Minto checkpoint.
This year, there will now be an eight-hour layover in Carmacks.
Carmacks is roughly 315 kms down river from Whitehorse and it is expected the lead teams will take about 20 hours to reach that point.
The race record is 52 hours, nine minutes, set by Michigan's Steve Landick and Mark Churchill in 2001.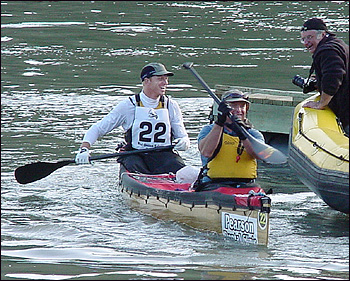 Star Photo by DAN DAVIDSON

Team Men of Constant Sorrow, consisting of Whitehorse's Tim Hodgson (22) and Toronto's Paul Pageau, drift into the finish area in Dawson City Friday night after completing the 2003 Yukon River Quest. The canoe team placed fourth overall and third in their category with a time of 57 hours, 41 minutes. The Regina canoe team of Mike and Fiona Vincent won the fifth-annual marathon river race from Whitehorse to Dawson with a time of 55:02.
Regina paddlers leading gruelling River Quest
by JEFF KORENKO, originally published June 27th in the Whitehorse Star

The first leg of the 2003 Yukon River Quest continued to whittle away last night at the number of boats hoping to make it all the way to Dawson City.
As of 6:30 p.m. Thursday, six teams had scratched before or at the mandatory eight-hour stopover in Carmacks.
By 9:40 this morning, the number of scratches had doubled to 12; meaning more than one-third of the 33 teams that started the 740-kilometre paddling marathon from the territory's capital Wednesday afternoon have been eliminated.
The list of scratched entries include the canoe class entries of Rob Leef and Joe Milliet from Texas; Guy Rogers and Andy Alford from the Guernsey Channel Islands; Germany's Dirk Riecken and Jurgen Buschner; Whitehorse's Louis Pelletier and Francis Roy; Dewinton, Alta.'s Kent Fenton and Whitehorse's Rick Brown; Skagway's John D. O'Daniel and David Brena; Whitehorse's Tony Arcand and Kevin Mellis; solo kayakers Heinz Rodinger from Austria; Whitehorse's Linda Bourassa; Manitoba's Steve VanVlaenderen; Ontario's Carole Lundy and Langley, B.C.'s Briana Wood.
By 6:30 last evening, 16 teams had arrived in Carmacks and three had departed following their eight-hour rests.
After drifting into the checkpoint first at 9:10 a.m. yesterday, the canoe class pairing of Mike and Fiona Vincent were promptly back on the water and on their way to Dawson at 5:10 p.m.
Their arrival in Carmacks meant they took 20 hours, 55 minutes to paddle the 315 kms to that point.
Sixteen minutes after the Vincents departed the Carmacks checkpoint, they were followed by North Vancouver solo kayaker Jerome Truran.
Along with chasing the first-overall pair, Truran appeared to have the upper hand in his three-person battle for top spot in the solo kayak class.
His arrival in Carmacks put him two hours, 35 minutes ahead of both Toronto's Dave Zietsma and Edmonton's Rick Amschler.
Amschler — last year's solo kayak winner — then scratched near Five Finger Rapids, becoming the 13th boat to drop out of the race.
"I normally feel this bad at the end of a race," joked Truran while sitting in his craft awaiting to be released back onto the water by the Carmacks' checkpoint staff.
"It definitely is a long race. Lake Laberge was quiet when I went through it up until about the last hour, which suited me just fine."
Third out of the Carmacks' checkpoint was the canoe tandem of Ken Stanick and Dave Ross, who also hail from North Vancouver.
They left in third place overall and second in the canoe category at 5:58 p.m.
Just prior to jumping back in his team's canoe, Stanick offered some thoughts on what competing in his first River Quest had been like to that point.
"The middle section of Lake Laberge was mentally tough, but we're happy with the progress we've made so far," he related.
"The lake was (a lot) bigger than we expected, but we got through it okay."
Stanick added that he liked the idea of having the full eight-hour stop at Carmacks, as opposed to previous years when there was a two-hour layover there and a six-hour one at Minto.
"It's better this way," he said. "It gives you a complete rest instead of just giving you enough time to get out of your boat.
"Before, I imagine you basically had time to stretch, get cleaned up and then move on.
"It may make the second stretch (to Dawson) seem a little longer, but we'll see."
Included in the field of 33 teams that started the fifth-annual race Wednesday are two eight-person teams paddling voyageur-style canoes.
The first of those into Carmacks was the one coined Maine Yahoos to the Yukon.
The other is the local "Paddlers Abreast" contingent that is once again competing to raise awareness for breast cancer survival.
On board the local voyageur boat are Dawn Olli, Linda Rapp, Claire Desmarais, Faye Swerhun, Lynn Rice-Rideout, Janet Moore, Robyn Findlater and Michelle Genest.
After clambering out of their boat at 12:56 p.m. yesterday, at least one member of the Maine Yahoos to the Yukon squad didn't feel anything like living up to his team's name by dinner time last night.
"It's a bad time to ask (how I feel)," an exasperated Ron Muir offered. "I don't even think I know what time of day it is.
"The longest race I've ever done is about (112 kms) and I just don't know how some of these (teams) manage this.
"I really needed this layover. I felt like I could have slept for 20 hours when we got here (yesterday).
"We just took turns sleeping and paddling through the night, but you have to force yourself to stay awake at times."
The leading crew from Regina stroked past Fort Selkirk at one this morning, followed by Truran a half-hour later.
Stanick and Ross were there third at 2:50 a.m. and close on their stern was the team consisting of Yukoner Tim Hodgson and Toronto's Paul Pageau.
The pair, after arriving in Carmacks at 10:34 a.m. yesterday, has steadily been making up time on the leaders.
By 8:30 this morning, nine teams had passed through Fort Selkirk.
Trailing Hodgson and Pageau were Zietsma; and in sixth overall, the tandem kayak team of Jeff Raymond and Katja Rademacher from Vancouver.
Raymond and Rademacher are thus leading the tandem kayak class.
They are followed by the Maine Yahoos to the Yukon; who left Carmacks at 8:52 p.m.; and the canoe-class vessels carrying Ottawa's Mike Perreault and Will Bruce and Yellowknife's Paul Burke and David Coupland.
River Quest Search and Rescue boats were involved in three rescues yesterday at Cassiar Bar.
It was pouring rain and three partcipants were unable to go on due to hypothermia — VanVlaenderen, Wood and Milliet.
All three were suffering from exposure.
VanVlaenderen, from Selkirk, Man., was paddling to raise awareness for arthritis research. Due to the cold weather and rain, his arthritis flared up and the type of arthritis he has makes his body start to shut down.
VanVlaenderen received assistance from Fenton and Brown Wednesday night on the Thirty Mile. They helped him get out of the boat so he could take his medication.
Further down the river at about 9:30 Thursday at Cassiar Bar, Paddlers Abreast found VanVlaenderen on the bank and helped him get warm and dry.
The voyageur canoe squad spent more than three hours with him, getting VanVlaenderen stripped down and into warm, dry clothes. They also built him a fire and stayed with him until the first rescue boat arrived.
Wood was suffering from mild hypothermia, as she did not have appropriate equipment for the conditions.
Milliet's condition was also diagnosed as a mild case of hypothermia.
His feet, in particular, were very cold and he could not warm up. He pulled out at Cassiar Bar and teammate Leef continued on solo for about three hours until he was finally picked up by Carmacks' Search and Rescue near Little Salmon River.
Later that evening at Carmacks, Leef told media spokesperson Jeff Brady that he has done a lot of canoe races and this year's River Quest was one of the best-run races he has ever been in.
Leef plans return to compete in the race next year.
Having helped an additional two squads on the river before reaching Carmacks, Paddlers Abreast's tremendous acts of kindness left them in second-last position overall.
The time they spent helping other teams will be credited to their finishing time in Dawson City.
It is expected that the Vincents should arrive at the finish area in the Klondike capital around 4 p.m.
With a file from the Star's Dianne Villeseche.
More information to follow. Stay Tuned!
---