| | |
| --- | --- |
| Kevin Daffe, a member of the Canadian Junior Rodeo team prepares for the World Rodeo Championships in New Zealand in December. Both local newspapers are covering his progress. | |
Yukon kayaker nears New Zealand
by Jillian Rogers
Yukon News sports reporter (reported November 3rd, 1999)
---
When 18-year-old Kevin Daffe started kayaking a decade ago, he never thought he'd reach New Zealand.

In less than a month, however, he will be putting his physics and math on hold at Vanier Catholic School and heading for the churning waters of the Ngaawapurua Rapids on the Waikato River in Taupo, New Zealand.

There he will represent Canada in the World Kayaking Championships.

Daffe was cartwheeled into the world of blunts and back-surfing through the family business, Tatshenshini Expediting, through which he began "tagging along on rafting trips and taking kayak courses in the pool."

Now, 10 years later, he's on the Canadian Junior National Kayaking Team preparing for his first competition outside of Alaska and the Yukon.

"This will be a big step up," said Daffe.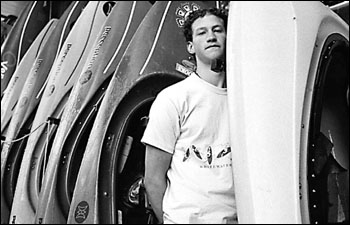 The national experience actually began in July. That's when he sent a list of his paddling experiences and a video showing off his talent to the coach of the national team. By mid-August he was member.

Since then, he's been trying to find sponsors with the help of his manager, Catherine Doyle, so he can travel to New Zealand with the team - they figure he'll need about $3,500.

So far, Coca-Cola Co. has given him $500 and the B.C. kayak manufacturer Necky has given him a boat to use in New Zealand, and made him part of its team.

Because the national team doesn't pay for any portion of his trip south, it sent him 100 T-shirts to sell for extra support.

Daffe, who has paddled rivers in the Yukon, Alaska, British Columbia, Chile and Ecuador, is still waiting to hear from local businesses.

Besides the basics, his repertoire features flat-spins (spinning around on the wave), cartwheels, left and right split-wheels, blasts (when the nose of the kayak in thrown up, out of the water), stern squirts and his latest trick: a blunt.

"It's when you're on a clean wave and do a low end, throwing the nose around," he explained.

Though he claims to be mostly self-taught, he attributes some of his prowess to other kayakers he's met along the way.

"This whole thing has been a dream for me. I never thought it would be possible anytime soon but the opportunity came up and I jumped on it."

The worlds are taking place from December 1 to 5, but Daffe is leaving Whitehorse on November 17.

And after a two-day flight and some time to recover from jetlag, he'll be in his boat trying to familiarize himself with the foreign waters.

"I have pictures of the river we'll be on, on the wall beside my bed. I study them each night before I go to sleep.

"I lose a little sleep worrying about it but I'll be there early enough to train a little before I compete. It should be good."

Because Daffe is new to the national scene, he has never seen any of the other junior paddlers, so he isn't expecting to finish first.

"I hope to do fairly well. I just want to continue on paddling, hopefully in the men's division on the national team in a couple years."

Daffe believes he's privileged to be where he is today but said he's just an "every day type of guy."
--------------------------------------------------------------------------------
©1999 The Yukon News
---
| | |
| --- | --- |
| | |